About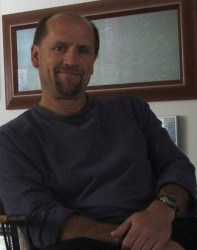 I am a representational  painter striving to depict the emotional connection I have to this fantastic Pacific Northwest landscape and environment. My paintings are basically a visual diary of my life and my daily experiences.
As a young artist I was influenced by the work of Winslow Homer, Ken Danby and Andrew Wyeth so I originally gravitated toward watercolor as my primary medium. Currently I am painting Acrylic on Canvas, I find Acrylic to be a very versatile medium and lends itself to larger paintings. Also the ability to display the finished piece without glass in front is a big plus.
I was born and raised in Maple Ridge, on the north bank of the Fraser River in British Columbia. I have drawn and painted ever since I can remember and after graduating from Douglas College in 1980 I followed my wife to Colorado and after several years landed in this cool green little city of Bellingham, Washington.
I am a signature member of the Northwest Watercolor Society and an Associate with the National Watercolor Society and exhibit with both groups regularly.